Entry:
<<
main
>>
2018.12.08 Saturday
curious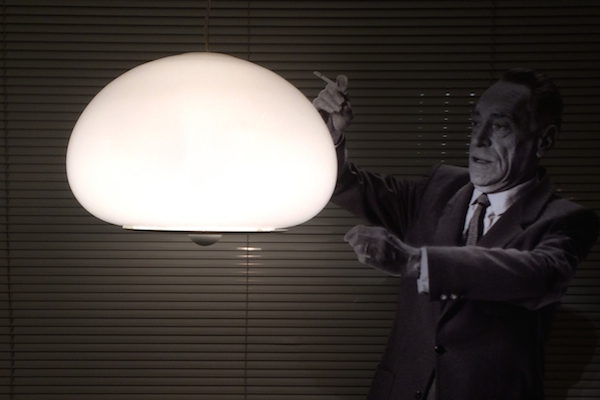 ピエルジャコモ、アキッレ・カスティリオーニ兄弟が手がけた照明、ブラックアンドホワイト。
一見するとただ光っているように見えるが、この照明は内部と下部に電球が仕組まれている。内部はこのオパールガラスで覆われたシェードを通して光が穏やかに拡散する。下部に仕組まれた電球は、ポリッシュされたアルミの反射板を通して机上を照らすようになっており、カチカチとスイッチを押すことで内部・下部・全照と光を選べる仕組みを持った、とても機能的な照明なのである。
照明、家具、食器、オーディオ、衛生陶器、展示会場のデザイン、etc..。彼はあらゆるものをデザインしたイタリア人デザイナー。
どこかユーモアがあるのだけど、そこから辿っていくと、とても機能的で知的なデザインであることがわかる。難解な言葉を並び立ててそのものを語るのでは無く、彼は『ほらね。』って見せて、グッと好奇心を持たせてくれるっていうのが僕なりの彼のデザインの解釈。
先日、FLOSのショウルームで行なわれた、彼の娘さんによる照明作品のガイドツアーに参加した。10数年以上前に訪れたミラノのスタジオで受けたガイドから、とても茶目っ気あるガイドになって、会ったことはないけれど、お父さんもきっとそんな人柄だったのだろうなぁと想像していた。
"If you are not curious, forget it" - Achille Castiglioni at FLOS SPACE(12月12日まで)
(最近出たBRUTUSとともに、必見の展示です〜! )
Lighting designed by Pier Giacomo and Achille Castiglioni brothers, Black and White.
At first glance it looks like it is shining, but this lighting has light bulbs organized inside and at the bottom. The light gently diffuses inside through the shade covered with this opal glass. The light bulb structured at the bottom illuminates the desk through a polished aluminum reflector. It is a very functional lighting with a mechanism that allows you to select internal, lower, full light and light by pushing the switch.
Lighting, furniture, dishes, audio, sanitary ware, exhibition hall design, etc ... He is an Italian designer who has worked on many designs.
Having a sense of humor and keeping track of the design makes me realize that it is a very functional and intelligent design. Rather than arranging esoteric words and telling themselves, he just shows " You see! " and makes me curious.
The other day, I participated in a guided tour of lighting work by his daughter, which was held in the showroom of FLOS. From the guide in Milan's studio that I visited more than 10 years ago, she has become a very humorous guide. I have never met Achille, but I guess he probably was such a person!
|Comment